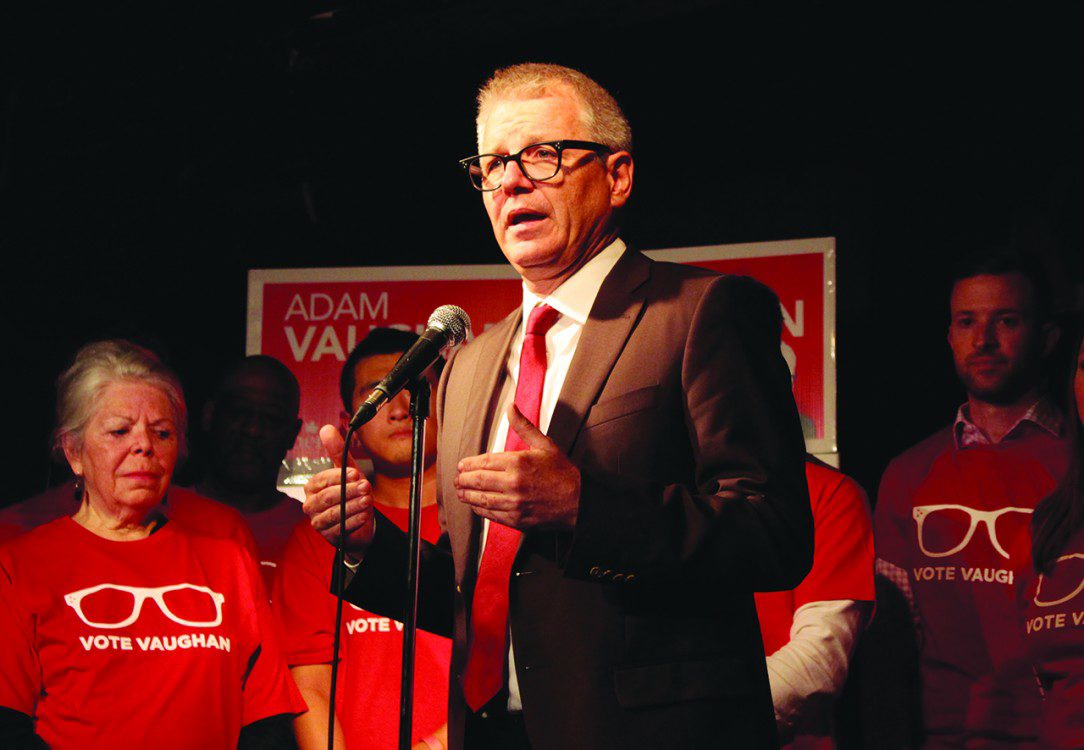 Photo: Liberal MP Adam Vaughan speaks to supporters after defeating Ryerson professor and former mayoral candidate Olivia Chow in Spadina-Fort York Monday night (Kira Wakeam/Ryersonian Staff). 
By Arthur White
Justin Trudeau's Liberal party won a resounding victory on Monday in a political sea change that could deliver bigger grants and delayed interest payments to students across Canada.
By winning 184 seats out of the 338 in the House of Commons, the Liberals will form a majority government. From only 36 seats heading into the election, the party increased its representation more than fivefold in one of the most stunning comebacks in Canadian political history.
The Conservatives shed 60 seats, finishing with 99 nationwide. The party saw a massive collapse in support in the Greater Toronto Area, where the Liberals won 46 of 52 ridings. Stephen Harper delivered a concession speech in Calgary and will resign as leader of the party after nearly a decade as prime minister.
The NDP also had a tough night, dropping from 95 seats to 44, driven by a poor showing in their Quebec stronghold. The Liberals won 40 seats in Quebec, mostly in and around Montreal.
The Liberals ran on a platform that promised lower taxes for the middle class, massive investments in infrastructure and a new, more collaborative approach to government.
On post-secondary education, the new Liberal government has promised to increase Canada Student Grant payments from $2,000 to $3,000 and defer interest payments on student loans until graduates make more than $25,000 per year. Trudeau also promised to create 40,000 new youth jobs, invest federal funds in apprenticeship programs and contribute $2.6 billion over four years to aboriginal education.
The party also plans to legalize and regulate marijuana.
The Liberals swept every riding around the Ryerson campus, and across Toronto as a whole. Businessman Bill Morneau took Toronto Centre, while the old Toronto Centre MP and former journalist Chrystia Freeland won in University-Rosedale.
In Jack Layton's old riding of Toronto-Danforth, the Liberals narrowly edged out his successor, Craig Scott. Olivia Chow, a former MP, lost to Liberal Adam Vaughan by nearly 15,000 votes in Spadina-Fort York.
Other candidates with Ryerson connections also had a bad night. Jacqui Gingras, a sociology professor running for the NDP in North Okanagan-Shuswap, lost to the Conservative candidate.
Recent graduate Linh Nguyen came in fourth place for the Greens in her riding of Mississauga Centre.
Compared to 2011, this year's election saw a seven percentage point increase in voter turnout, which reached 68.5 per cent. No figures for youth turnout were immediately available, but before the election, Ryerson students waited up to two hours to vote in advance polls on campus.
Students in residence, some deterred by the long lines in advance polls, came back to vote at the International Living/Learning Centre on Monday. Elections Canada officials on site told The Ryersonian that everything was running smoothly as of Monday afternoon.
In his victory speech, Trudeau commended NDP leader Thomas Mulcair for his "vigorous campaign," and paid his respects to the defeated prime minister.
"Stephen Harper has served this country for a decade," he said. "And as for anyone who has devoted their life to this country, we thank him for his service."
He said that the Liberals had run a positive campaign based on a "hopeful vision."
"Politics doesn't have to be negative and personal to be successful," Trudeau said. "You can appeal to the better angels of our nature and you can win while doing it. Tonight, my very good friends, we proved that."
In a campaign dominated — at least for a few weeks — by a debate over the niqab and what the Conservatives called "barbaric cultural practices," Trudeau, in the final minutes of his speech, told the story of a Muslim voter who handed him her infant child and explained why she was choosing the Liberals.
"She said she's voting for us because she wants to make sure that her little girl has the right to make her own choices in life and that her government will protect those rights.
"A Canadian is a Canadian is a Canadian," he said.
With Files from Jordan Mady