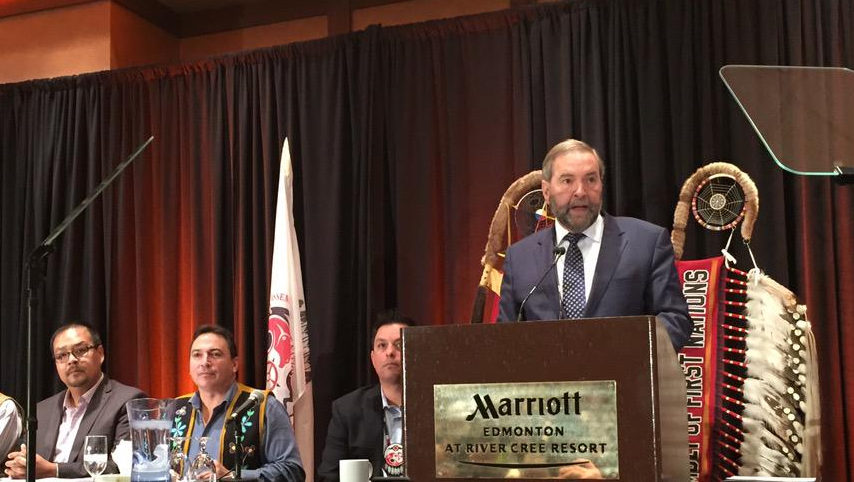 Photo: NDP leader Thomas Mulcair speaks at an Assembly of First Nations forum (Courtesy @perrybellegarde/Twitter)
By Angelyn Francis
Improper housing, access to education, youth suicide rate, incarceration rates, unsafe water and missing and murdered women.
For indigenous voters in Canada, these are the main issues this election. This time around, each of the parties in the running have addressed many, if not all, of these problems in their platforms.
But up till now, a day before voting day, their points related to indigenous issues haven't been heard quite as loudly through microphones on the campaign trail.
Nadine Cuneo, the financial director for the Indigenous Student Association at Ryerson, remembers watching a debate and not hearing indigenous issues being talked about at all.
In all three English debates, First Nations and aboriginal peoples were referenced briefly with regard to pipelines and Bill C-51 and once when Liberal leader Justin Trudeau pointed out these communities "haven't been talked about enough tonight" during the Globe and Mail debate. But none of the questions posed by moderators, nor the topics brought up in the open debate portions, related to indigenous issues.  
"I think that's to be expected, as a Native person," Cuneo said. "We don't expect them to talk about our issues and that's why so many Native people don't vote.
"Our issues are seen as small niche issues, but meanwhile as an indigenous person these are the main issues," she continued.
Off the mics, however, indigenous issues have been addressed to various extents in each of the parties' platforms. The Liberal party and the NDP have dedicated sections of their platforms that individually address closing education gaps in First Nations communities, the Truth and Reconciliation Commission and opening an inquiry into missing and murdered indigenous women.
The Greens have presented a specific aboriginal policy, bringing up these major points as well. The Conservative platform mentions access to education, "social and economic development," and looking at mental health and suicide among First Nations.
Scott Hillier, a Ryerson PhD candidate in policy studies, says that these mentions mean we are starting to see some of the parties take indigenous issues more seriously, but he agrees that they haven't been highlighted on the campaign trail.
"We've spent weeks now discussing the niqab issue — an issue that is really a non-issue … when we have over 1,200 missing and murdered or missing indigenous women in this country, and yet we can't seem to have that discussion on a national stage."
The staggering number of drinking water advisories on reserves is another First Nations problem that has been written into platforms, but not really spoken about to voters.
According to Health Canada, as of July 31, 2015, there were 133 drinking water advisories in effect in 93 First Nation communities across Canada, not including those in British Columbia. Some have been in place as far back as 1999. The list states that many advisories have not yet been revoked.
Rick Harp, a journalist and clean water advocate in Winnipeg, is pleased that commitments regarding clean water on First Nation reserves have been mentioned as platform points for the NDP, Liberals and Greens. They've each specifically referenced the Shoal Lake 40 First Nation, the nation for which Harp advocates, which has been under a boil water advisory for nearly two decades. Both the Liberals and the NDP have committed to building a road to the community, which has been a significant barrier in terms of accessing necessities.
Harp said, however, that a newly elected government may be in for some surprises regarding the actual state of government finances.
"Promises are often made assuming a fairly rosy scenario, and when that doesn't materialize aboriginal issues fall to the bottom of the pile, frankly," said Harp.
"I think there's a lot of well-earned cynicism towards federal governments when it comes to these kinds of promises," he added. "It really is, 'believe it when I see it.'"
According to Hillier, the status of their issues, as well as ideological beliefs — meaning that some Aboriginal groups participate only in their own First Nations and do not recognize the Canadian government as legitimate — have contributed to the low voter turnout from among the First Nations in Canada.
Based on data collected by Elections Canada the turnout for the 2011 federal election on First Nations reserves was estimated as under 45 per cent, whereas the national average was a little over 61 per cent.
Hillier noted that the Fair Elections Act may make it all the more difficult for First Nations peoples living on reserves to vote. The new act has made voter identification stricter by eliminating vouching, among other things. Hillier said many reserves do not have street addresses, so in the past, chiefs and band members would vouch for the voter and verify their identity and home riding. With the new changes, these voters will have to find another way.
For this election though, Hillier said he thinks he's starting to see attitudes change toward voting.
"We've had many leaders in the indigenous community come out and say we must vote, we must make a change."
This year's Mrs. Universe, Canada's Ashley Callingbull from Alberta's Enoch Cree Nation, has been speaking out and urging First Nations to vote. The Assembly of First Nations National Chief Perry Bellegarde has made statements the importance of First Nations peoples "making an informed decision at the ballot box." And in total there are 49 indigenous candidates vying for a seat in the House of Commons.
Post-election, Hillier said that people need to maintain pressure on the federal government to hold true to the promises they have made for indigenous communities.